This summer, forget the crowds at Disneyland and head to California's Venice Beach instead. From surfing to scuba diving and more, there are lots of fun activities to take part in this beachside paradise. Read on for some of the coolest things you can do in Venice Beach this summer!
Things to Do in Venice Beach, LA This Summer
There's no place like Venice Beach, California in the summertime. The sun is always shining and there's always something to do. From hitting the beach to exploring the Venice Canals, here are the coolest things to do in Venice Beach this summer.
1. Rent a bike and explore the boardwalk – there's no better way to see Venice Beach than by bike! You can rent bikes from several places along the boardwalk.
2. Go for a swim – the water is always warm and inviting in Venice Beach! There are several lifeguard-protected areas perfect for swimming, boogie boarding, and more.
3. Play some beach volleyball – volleyball is a popular pastime in Venice Beach! You can find games happening all along the beach, or even join in on a game of pickup.
4. Watch the sunset – there's nothing quite like watching the sun set over the ocean. Make sure to catch at least one sunset during your stay in Venice Beach!
5. Visit the Venice Canals – these man-made canals are a must-see while in Venice Beach! You can stroll along the pathways, check out the unique architecture, and even take a boat ride through the canals.
Surfing in Venice Beach, LA
One of the coolest things you can do in Venice Beach, LA this summer is go surfing. Venice Beach is home to some of the best waves in Southern California, and there are plenty of surf schools where you can learn how to ride them. Once you've mastered the basics, you can head out to the famous Venice Pier to catch a few waves.
Just be sure to watch out for the locals!
The Artistic Side of Venice Beach, LA
Venice Beach is a mecca for artists, with its eclectic mix of people and colorful surroundings. There is no shortage of things to do or see here, and the arts scene is definitely one of the highlights. If you're looking for something different to do this summer, check out these Venice Beach art spots.
The Venice Art Walk is a great way to get a taste of the local art scene. This monthly event features a different artist each month, as well as live music and food trucks. It's a perfect way to spend an afternoon exploring the art of Venice Beach.
The Venice Beach Boardwalk is another great spot for art lovers. This two-mile stretch of beachfront property is home to a number of local artists, who sell their wares along the boardwalk. You'll find everything from paintings to jewelry to handmade clothing. It's a great place to find unique gifts or just browse the amazing work of these talented artists.
If you're looking for something a little more hands-on, the Venice Art Crawl is perfect for you. This monthly event gives you the chance to meet local artists and learn about their work. You'll also have the opportunity to create your own art piece to take home.
Where to Stay in Venice Beach, LA
Looking for the best place to stay in Venice Beach, LA this summer? Look no further than the Venice Beach Boardwalk! This world-famous boardwalk is home to some of the coolest hotels, restaurants, and shops in town, and is the perfect place to soak up the sun and enjoy the Venice Beach scene. Here are our top picks for hotels on the Venice Beach Boardwalk:
-The Venice Beach Hotel: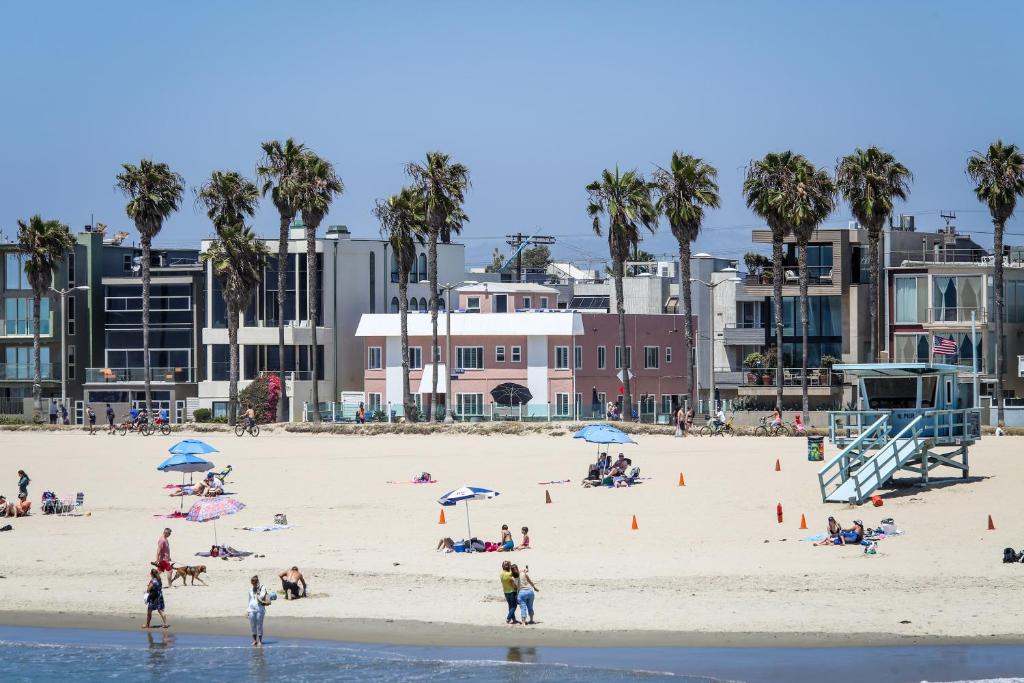 Venice on the Beach Hotel is right in the heart of the action, and offers guests a prime spot on the boardwalk to people-watch and enjoy the sunny California weather.
-The Inn at Venice Beach: This charming inn is steps away from the beach, and offers guests a peaceful retreat from the hustle and bustle of Venice Beach.
-The Best Western Plus Windward Inn & Suites: This hotel offers great views of the beach from its rooftop deck, and is just a short walk away from all of the best shops and restaurants on the boardwalk.
If you aren't one to be confined to your bed, then you might want to try couch surfing. Couch surfing is a social networking site where travelers can connect with locals and other travelers in their city and find free places to sleep. What's even better is that it's free, so there's no reason not to try it out!
See if there are any groups in Venice Beach on the couch surfing website, or create your own group by adding yourself as the host of the trip.
Then, make sure your profile on the site is up-to-date so locals and other travelers will be able to get in touch with you!